LOW PROFILE WIPER - Sudarshan Elastomer Pvt. Ltd.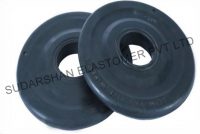 SUDARSHAN ELASTOMER PVT LTD manufactures Flat Pipe Wipers for regular service are active, adequately elastic, highly resistant to cutting, tearing and abrasion, being made of rubber specially compounded to make them so. They remain firm against mud & water. These are black in colour. SEPL Wipers, meant specifically to encounter the effects of crude oil & oil-based drilling fluids, are made from an extra special compound of rubber to equip them with the said capacity, besides the general qualities of wipers for regular service, as stated above.
These tubing wipers are specially designed for the application on drilling pipe, which should be placed above or around the drill pipe just below the rotary table, where a solid master bushing is used.
When the drill pipe is removed from the well, the wiper will clean€ the mud from the pipe and return it to the casing.
The Flat Wipers have a series of concentric rings molded around the inner wiping surface. Each ring carries a specific size, identifying the area of the center hold to be cut out for specific drill pipe sizes.
Special Features :-
1.Made using proprietary engineered rubber compound.
2.Tremendous resistance to cutting, tearing, abrasion,water and oil based drillings mud's thereby giving long life.
3.Large inventory for fast deliveries can be supplied for most drill pipe and tubing sizes.
4.They are available in various OD and ID either cut to same size or pilot bore.